With my football student tickets prepared to rest firmly in my palm by July 6, the itch for Iowa Hawkeye football has evolved into a raging rash that needs to be scratched. Soon. The nation's sports pundits seem to think that Iowa has a decent chance at a Big Ten title (http://cfn.scout.com/2/864607.html), but my faith in the poor Hawks has been battered over the years like any woman involved with Brandon Marshall. I wouldn't say I'm a Bill Mahr-level atheist, but I'm no Pope Benedict. I think Iowa's offensive success will depend on quarterback Ricky (Swinging Dick) Stanzi's ability to keep defenses from loading up to stop the run and to avoid turnovers, two things that he succeeded at towards the end of 2008 with flying colors. Besides having shagalicious locks and ridiculously Tom Brady-esque features, Stanzi won the QB battle with incumbent Jake Christensen last year, but instead of being a good Hawkeye and staying with the team as a backup like he should, Jake is taking his Dick Cheney-accurate arm and quicksand-like elusiveness to Eastern Illinois, where is sure to be a scrub. Stanzi is indeed the Manzi from now on, and there are no worries about job security, but if the wispy 6 foot 4 Ohio-bred stud goes down for extended time, the backups are both inexperienced (but talented) redshirt freshmen. Eeek. Not an ideal scenario, especially with Stanzi not necessarily possessing that dirt on your overalls, pork tenderloin mama's lard-soaked cooking body that all Iowa boys seem to grow up having. If Stanzi can stay healthy, and Jewel Hampton/Jeff Brinson can provide a running game semi-appoaching what Shonn Green gave us last year, than Stanzi should be free to play-action all day and keep defenses on their toes.
1)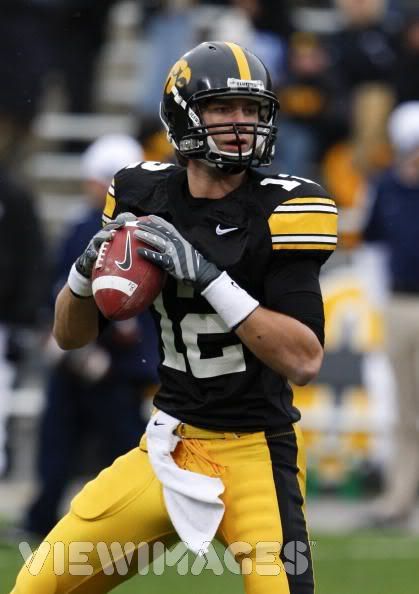 Ricky Stanzi (JR)-Stanzi came into his own down the stretch last year, orchestrating the big game winning drive to beat Penn State while leading Iowa to wins over Purdue, Minnesota, and South Carolina in the last three games. He showed an ability to stand tall in the pocket and make all the necessary throws, even those dreaded touch passes and sideline throws that seemed so difficult for Jake. He also showed some mobility and ability to throw on the run, all while fending off requests from blonde haired females to father their children. Unfortunately, Stanzi also cost Iowa a few games with his boneheaded interceptions and nonchalant carrying of the ball (Northwestern and Illinois come to mind), but again, he put a stop to that at the end of last season. The guy has never had to carry an offense, but he sure got me excited with the snippets of talent and beautiful throws he made last year. Hell, I thought he was the next coming of Chuck Long after the Florida International game! Quite frankly, Iowa hasn't had a QB this talented or poised since Drew Tate, and we all know how that went. Let's hope for less "Stanzi-balls" and more TDs.
2)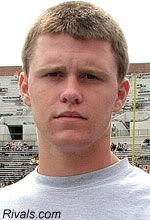 James Vandenberg (RS-FR)-A highschool standout from smalltown Keokuk, Iowa, this guy shattered all sorts of state passing records and seems to be the prototypical strong armed pocket passer, and Iowa's clear number 2 QB right now. Apparently wowing in practice, and pacifying the coaches' fears for the future so much that we didn't even land a scholarship QB from the '09 recruiting class. Should be a stud eventually.
3)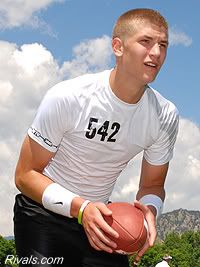 John Wienke (RS-FR)-Originally committed to Michigan (argggghhh), he switched to the Hawkeyes when Rich Rodriguez became the head coach since his spread offense didn't fit with Wienke's drop-back abilities. Wienke is another small town kid, only from Illinois, and seems almost to be a carbon copy of Vandenberg. Wienke is the son of a coach, and possesses a strong arm and stout athletic body rarely seen on Hawkeye QBs. He also happens to be left-handed, which sucks. Hawk fans salivating for another mobile QB like Brad Banks will be disappointed for the next few years, however, as Wienke is another steady pocket passer who won't move around alot. Will be interesting to see how this QB battle plays out between him and Vandenberg, as one of these guys is likely to transfer if he doesn't get the starting spot...