That's how many years in a row a Hawkeye has been picked up in the NFL draft, and the quality of that number has just skyrocketed since Coach Kirk Ferentz arrived at Iowa in 1999. Everyone from left tackle Robert Gallery getting picked up at number 2 overall in 2004 to Bobby Sanders, 2007's NFL Defensive Player of the Year, falling to the 2nd round, Kirk has used his NFL experience (coordinator with the Browns for almost a decade), pro-style offensive/defensive coaching tactics, and stable of well-qualified assistants to develop connections and future NFL players just as well as top programs like Oklahoma and Florida, incredible considering the disadvantages he has to work with at Iowa compared to other top programs. Iowa will never stand atop the Rivals recruiting rankings with the state's climate, flat plains, and general mass of Caucasians, amassing a glut of 4 and 5-stars like Easter candy, but its what Kirk and crew are able to do with their players once they arrive at Iowa that is the amazing thing. Player development and improvement is a key sign of a coaches' ability, and Kirk is as sterling as it gets. That definitely shows in this season's draft of Hawks, where pure athletic talent isn't overabundant but hard work and productive college careers are. Shonn Greene, fresh off a gawd damn grandiose one season where he shattered every record in the Iowa books while nabbing the Doak Walker Award for best running back in the nation, is the quintessential example of great coaching and greater effort overcoming expectations and lack of pure physical talent, while Mitch King, a 4-year starter who played with more intensity and reckless abandon than any Hawkeye in recent memory, made up for being criminally undersized with a motor that never stopped and leadership that can't be taught in the classrooms. Two great Hawkeyes who weren't highly recruited, but bided their time and became superstars on a national level. Let's start with Greene, Mark Sanchez's new workout buddy...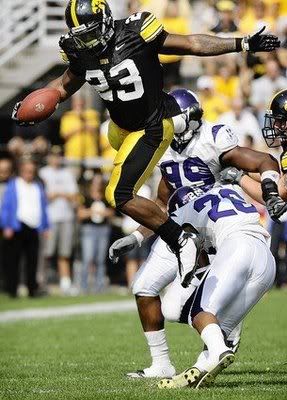 Greene, the newest member of the New York Jets as the first pick of the 3rd round, should factor in as a direct backup immediately and eventually succeed as the main back under the bright city lights. New coach Rex Ryan obviously wanted Greene, as he traded up 3 draft picks to nab him right off the bat on day 2, and gloated over the "pound and ground" attack that he desires. That is definitely Greene's preferred style, as his robust size, pulverizing rushing style, and frenetically quick feet for a guy his size all combine to make him a complete rusher. He won't be a speedster, as he possesses average burst, but once he hits the hole he has as much quickness as anyone. Iowa didn't use him as a receiver much, but he proved at the combine that he can definitely catch passes out of the backfield, important for the Jets in their offensive scheme and for grooming a young QB like Sanchez, who will be looking to dump off plenty with NFL defensive pressure in his grill. Thomas Jones, the incumbent Jets runner, had a great season last year, one of the best in the AFC, but he is on the decline for a running back (age 31), he is disgrunted and holding out of training camp (not good with a new coach), and is seriously underpaid and looking to be overpaid. This is all setting up for a very Shonn Greene future.
The very next pick of the 3rd round went to the St. Louis Rams, and they selected Iowa defensive back Bradley Fletcher. Fletch showed as much improvement as anyone on the team from his junior to his senior season, becoming a legitmate All-Big Ten lockdown corner and our most reliable cover guy. He has the speed to hang with NFL wideouts, and he is a more than solid tackler, but he is undersized and might get pushed around a bit if he stays at corner. His combine numbers got him drafted this high after a relatively quiet college career, but with his athleticism and tackling ability I envision a Charles Godfrey-esque move to safety. The Rams have a horrible secondary, and look for Fletcher to start off on special teams and move into a starting role right away.
Right guard Seth Olsen was snatched up by the Denver Broncos in the 4th round. He has been our most consistent lineman for at least 2 years, and was a valuable leader last year. He has fantastic size, but is a bit slow to play tackle, so look for him to immediately move into a backup role for Denver with an eventual starting spot coming up. The Broncos were known under Mike Shanahan for having a faceless, autonomous unit that stressed the "oneness" of the group over having individual guys. They had amazing success, with some absurd streak of having a different 1,000 yard rusher every year, and they had few defections, but they are rebuilding somewhat with new coach Josh McDaniels and I think Olsen will fit right in with the zone-blocking running scheme, which is what he ran at Iowa. Seamless transition.
The final Iowa guy picked up in the draft was tight end Brandon Myers going to the Oakland Raiders, who surprisingly traded up to get him in the 6th round. I never would have thought Myers would get drafted and King not, but I'll take it. With the Raiders' recently checkered draft history, including the selection of Hawkeye Robert Gallery 5 years ago (widely considered a bust), I don't know how happy I should be, but Myers will start off right away as the backup and a blocking tight end for pass catching threat Zach Miller. Myers was supposed to be a career backup, but due to injuries to talented starter Tony Moeaki, Myers was forced to step in and essentially became a 2-year starter. He doesn't have great speed, but he does have excellent hands and made a more than capable possesion guy. He also has the size to be a valuable blocker.
A plethora of black and gold headbusters were also picked up as undrafted free agents. Mitch King, who should get some reps at fullback and linebacker, is too small to play D-end in the NFL, but has more heart than most of the players taken ahead of him and the speed to beat most NFL O-linemen. I guarantee he will stick with someone, whether it is the Tennessee Titans (who picked him up) or not. Matt Kroul, his 4-year counterpart on the D-line and a steady run stuffer, is also undersized, and without the quickness of King I can't see him sticking with the NY Jets. The Tampa Bay Buccaneers picked up center Rob Bruggeman, who I think will actually stick with somebody. The former walk-on was a key part of the Iowa resurgence on the O-line this past season, as his strength, work ethic, and smarts all made him the leader there with Olsen. He might not have NFL athleticism, but I really think with his work ethic he can make it. Finally, wideout Andy Brodell was picked up by the Green Bay Packers. Brodell showed against Texas in the Alamo Bowl that he has the speed and moves to be a playmaker, slicing up NFL cornerback Aaron Ross like swiss cheese, but he doesn't have the speed of most pro wide receivers and will probably make a team on special teams, if anything. I'll always remember that Alamo Bowl performance, though...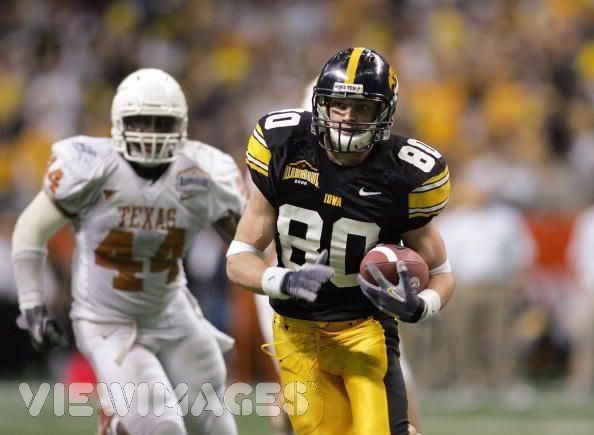 Here's a little Mitch King to send you off...